[ APRÍL | MÁJ | JÚN | JÚL | AUGUST | SEPTEMBER | OKTÓBER | DECEMBER ]
[ ARCHÍV ]



| | |
| --- | --- |
| | |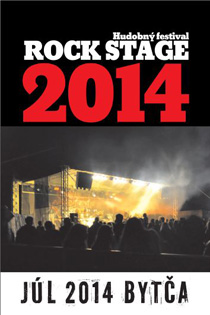 4.-5.7. (piatok-sobota)

Rockový festival Rock Stage
Doga, Debustrol, TÖRR, ...
Bytča (SK), info: Rock Stage FB profil



10.-13.7. (štvrtok-nedeľa)

Masters Of Rock 2014
Dream Theater, Helloween, Sabaton, Sebastian Bach, Anthrax, Airbourne, Unisonic, Arch Enemy, Behemoth, Krokus, Stryper, Epica, The Exploited, Eluveitie, Korpiklaani, Freedom Call, Die Happy, Axxis, Terrana, Visions Of Atlantis, Grand Magus, Civil War, Gloryhammer, Russkaja, Serenity, Citron & Tanja, Rocksymphony (M. Jandová & H. Toužimský & Fbm Zlín), Doga, Salamandra, Legendy Se Vrací, Six Degrees Of Separation, The Snuff, Forrest Jump, …
Likérka R. Jelínek - Vizovice (CZ), info: www.MastersOfRock.cz, www.pragokoncert.com



18.-20.7. (piatok-nedeľa)

Agressive Music Fest 2014
Vader (Death Metal, Pl), Blaze Bayley (Ex Iron Maiden, Gb), Khaoz (Death Metal, Nl), In Other Climes (Hc/Metalcore, F), Bionic Angel (Gothic Metal/Rock, D), Mater Monstifera (Black Metal, Cz), Lets Play God (Metal, Scot), Tortharry (Death Metal, Cz), The Last Warning (Groove Metal, A), Cruadalach (Folk Metal, Cz), Aint (Horror Metal, Sk), Fleshless (Death/Grind, Cz), Seven (Progressive Metal, Cz), Luna Ad Noctum (Black Metal, Pl), Doomas (Doom Metal, Sk), Dehydrated (Death Metal, Rus), Assessor (Thrash Metal, Cz), Darkfall (Thrash/Death Metal, A), Stercore (Grind, Sk), Deathward (Doom/Death, Cz), Neurasthenia (Thrash, Ita), Lehmann (Progressive, Ita), Nuclear (Thrash, Chile)
Pohoří (CZ), od 350 Kč
Metalový open-air festival, stanování zdarma, areál zastřešen, sobotní snídaně zdarma, 23 kapel z 12 zemí světa.




[ APRÍL | MÁJ | JÚN | JÚL | AUGUST | SEPTEMBER | OKTÓBER | DECEMBER ]
Copyright © 1997-2013 incipitum.sk, ISSN 1337-222X
Doslovné ani čiastočné preberanie materiálu zo stránok incipitum.sk nie je povolené bez predchádzajúceho písomného povolenia redakcie.