[ JÚL | AUGUST | SEPTEMBER | OKTÓBER | NOVEMBER | DECEMBER ]
[ ARCHÍV ]



| | |
| --- | --- |
| | |







2.-3.8. (sobota-nedeľa)

Wlesefest VII
H2O (USA), Deez Nuts (AUS), Brutality Will Prevail (UK), Devil In Me (P), Damager (DE), Arsonist Get All The Girls (USA), ...
areál SIM–PRIEKOPA - Martin (SK), info: facebook.com/wlesefest, wlesefest@gmail.com
info článok: Wlesefest VII



6.-9.8. (streda-sobota)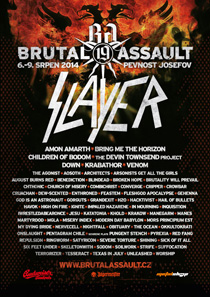 Brutal Assault 2014
Amon Amarth, Aosoth, Architects, Arsonists Get All The Girls, August Burns Red, Benediction, Blindead, Bring Me The Horizon, Broken Hope, Brutality Will Prevail, Children Of Bodom, Chthonic, Church Of Misery, Combichrist, Converge, Cripper, Crowbar, Cruachan, Dagoba, Dew-Scented, Down, Enthroned, Feastem, Fleshgod Apocalypse, Gehenna, God Is An Astronaut, Gorguts, GrandExit, H2O, Hacktivist, Hail Of Bullets, Havok, High on Fire, Ignite, Impaled Nazarene, In Mourning, Inquisition, Iwrestledabearonce, Jesu, Katatonia, Khold, Krabathor, Krakow, Manegarm, Manes, Martyrdod, Mgla, Misery Index, Modern Day Babylon, Mors Principium Est, My Dying Bride, Nervecell, Nightfall, Obituary, Okkultokrati, Onslaught, Pentagram Chile, Pyrexia, Red Fang, Repulsion, Ringworm, Satyricon, Schirenc Plays Pungent Stench, Severe Torture, Shining, Sick Of It All, Six Feet Under, Skeletonwitch, Slayer, Sodom, Soilwork, Strife, Suffocation, Terrorizer, Tesseract, Texas In July, The Agonist, The Devin Townsend Project, The Ocean, Unleashed, Venom, Worship, ...
areál Vojenské pevnosti Josefov - Jaroměř (CZ), info: www.brutalassault.cz, www.obscure.cz
info článok: SLAYER potvrzen jako headliner festivalu BRUTAL ASSAULT 2014!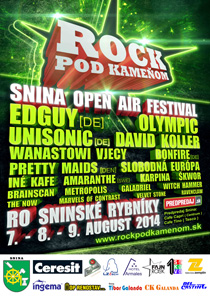 7.-9.8. (štvrtok-sobota)

Rock Pod Kameňom 2014
Edguy, Unisonic, Pretty Maids, Amaranthe, Bonfire, Olympic, Wanastowi Vjecy, David Koller, Inekafe, Škwor, Karpina, Galadriel, Tristana, Metropolis, Slobodná Európa, Witch Hammer, Brainscan, Marvels Of Contrast, Velvet Stone, Ravenclaw, The Now
RO Sninské rybníky, Snina (SK), 22 €, info: rockpodkamenom.sk, www.facebook.com/rockpodkamenom, plus.google.com/103982204712410486832



11.8. (pondelok)

Combichrist, Aesthetic Perfection
Randal Club - Bratislava, Karpatska 2 (SK), 20.00, info: www.obscure.cz, www.randalclub.eu
info článok: Combichrist 11.8. v Bratislavě



12.8. (utorok)

Machine Head + support
Roxy - Praha, Dlouha 33 (CZ), 19.00, info: www.obscure.cz



16.8. (sobota)

Made Of Metal Festival
Therion, Amaranthe, Ensiferum, Lunatic Gods, Silent Stream Of Godless Elegy, ...
Hodonín (CZ)



20.8. (streda)

Agnostic Front + support
Randal Club - Bratislava, Karpatska 2 (SK), 20.00, info: www.obscure.cz



22.8. (piatok)

Jethro Tull Iana Andersona (UK)
PKO - Nitra (SK)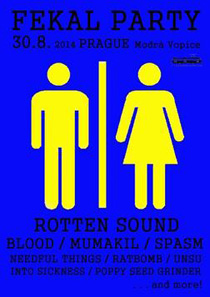 30.8. (sobota)

Fekal Party XVI
Rotten Sound (Fin), Blood (Ger), Mumakil (Swi), Spasm (Cz), Ratbomb (Fra), Needful Things (Cz), Into Sickness (Mex), Unsu (Fra), Poppy Seed Grinder (Cz), ...
Modrá Vopice - Praha, Spojovací 1901/12 (CZ), info: www.modravopice.eu, last.fm event, facebook.com event

Folk Metal Fest
Lunatic Gods, Silent Stream Of Godless Elegy, Prarod, Panychida, Radgorath, ...
Tišnov (CZ)








[ JÚL | AUGUST | SEPTEMBER | OKTÓBER | NOVEMBER | DECEMBER ]
Copyright © 1997-2013 incipitum.sk, ISSN 1337-222X
Doslovné ani čiastočné preberanie materiálu zo stránok incipitum.sk nie je povolené bez predchádzajúceho písomného povolenia redakcie.